It's set to be the must-see flick for 2015. Into the Woods has a stellar cast with a captivating storyline – a modern twist on several beloved fairy tales – that will leave audiences spellbound and analysing the consequences of their actions forever after…
Into the Woods is due to hit cinemas across Australia on January 8, 2015, but you may want to pre-book your tickets now. The film has an amazing cast including Meryl Streep, Johnny Depp, Emily Blunt, Anna Kendrick, Chris Pine and many more acclaimed actors, all with a message to share. The big screen adaptation of 1987 Broadway Musical Into the Woodsgives a modern twist to the beloved Brothers Grimm fairy tales in a musical format that follows the classic tales of Cinderella, Little Red Riding Hood, Jack and the Beanstalk, and Rapunzel. Only this time, they're tied together by an original story involving a baker and his wife, their wish to begin a family and their interaction with the witch who has put a curse on them.
Unlike the classic fairy tales where the stars live 'happily ever after', the contemporary spin has an emphasis on what happens 'after', examining the consequences of our heroes actions, wishes, the parent and child relationship, greed, ambition, loss, and, perhaps most importantly, unconditional love and the power of the human spirit. Prepare to embark on a journey where you'll quickly discover we are all connected and we are all responsible for each other's actions. There's a lesson or two to be swept away in. Here's a movie bluffer's guide to the characters, the magnificent actors and why they were all so keen to sign up for this hit flick…
Meryl Streep as the Witch
She is the Iron Lady of film, with an unsurpassed record of 18 Academy Award nominations. Her most recent Oscar was for her performance as Margaret Thatcher in The Iron Lady, so it's telling that Meryl Streep was the first of many gifted actors to sign up for Into the Woods as the Witch who longs for beauty and companionship. So why was Meryl so keen when she'd turned down many similar roles previously? "I changed my mind when this role came along because this Witch is quite different," she explains. "First of all, she transforms. Her whole reason for being is to reverse a curse that has been placed on her. She sets in motion all sorts of devices and causes a dramatic upheaval in everybody's lives." And of the twist on the original fairy tales? "Fairy tales evolved as cautionary tales," she explains. "They were told to scare children away from the dangers they would encounter in their lives and to encourage young women to marry rich men. Everyone is encouraged to find a prince and live happily ever after, and sometimes it doesn't work that way."
James Corden as The Baker 
James Corden is perhaps most recognisable for his roles in The Three Musketeers and Gulliver's Travels, but he has a long list of film credits and a Tony Award for his performance in One Man, Two Guvnors in his Baker's hat too. James plays the Baker, a character, along with his wife, who is desperate to rescind a curse preventing the couple having a child.
Emily Blunt as the Baker's Wife
Emily Blunt is one of the most in-demand actresses of today. The Golden Globe-winning star, who has a string of hit flicks under her belt including The Devil Wears Prada and The Young Victoria, plays the childless Baker's Wife. "My character has a desperate yearning for a child," Emily says. "Because of the curse that has been placed on her family, she must venture into the Woods to secure a list of items given to them by the Witch, so she becomes this tenacious and determined character who is willing to go to any lengths to get what she wants. Eventually we see her unravelling. She is innately a good person, but gets swept up by the Woods and their potential."
Anna Kendrick as Cinderella
It's the Twilight series that most of us recognise Anna Kendrick from, but she has an impressive list of films and accolades, earning prestigious nominations from the Critics' Choice Movie Awards, The Oscars, The Golden Globes, BAFTA, and the Screen Actors Guild. Anna's version of the modern Cinderella is more complicated and flawed then the iconic character. Anna says she was attracted to the role because she is different from the archetypal portrayal of the fairy tale persona. "What is unique is that this 'Cinderella' story comes directly from the Grimm version where the tree at the grave of her Mother gives her the dress and shoes that she wears to the Festival," she says. "So in some ways she has access to a kind of magic when she really needs it." Does this Cindy find her Prince? "What happens after she marries the Prince is where it gets interesting: Cinderella really starts to find her voice and rejects what she thought she wanted, which also means admitting she made a mistake. She is not a blameless victim though – she has to own the fact that she wanted something so badly without really thinking about what it was she really needed."
Chris Pine as Cinderella's Prince 
Chris Pine plays Cinderella's Prince, who's on a mission to find a bride and is used to get everything he wants – a tad different (read: mega) to his former performance as Capt. James T. Kirk from Star Trek: Into The Darkness. "The Prince is one of those characters that we all think we know, but in truth we don't really know all that much about him," explains Chris. "One of my favourite lines in the script is when Cinderella tells him that he needs to step up to the plate and be a good King and his response is, 'I was raised to be charming, not sincere,' which basically sums up who he is."
Johnny Depp as The Wolf
Johnny Depp needs no introduction. Women everywhere have been drooling over him, err, his acting skills since he entered our living rooms on 21 Jump Street in 1987 (yes, I remember the vintage). But this role is less heart throb and more predatory, bringing the Wolf to life. Johnny was quick to sign on after having worked with Director/Producer Rob Marshall on Pirates of the Caribbean: On Stranger Tides, saying "I'd shoot the phone book with Rob if he asked. He's the real thing."So what's the story with The Wolf? He is the feral creature, unguarded and animalistic. And Depp nails this character.
Daniel Huttlestone as Jack
This rising star has already charmed audiences as Gavroche in the Academy Award-winning musical Les Miserables, and toured twice with the stage cast of Oliver! Daniel Huttlestone was just 13 when he was cast as Jack, the care-free boy who yearns for adventure. And boy does he get adventure! Director/Producer Rob Marshall says, "Daniel was 13 when he came in for his auditioned and sang 'Giants in the Sky' in a higher register since his voice had not changed, and it was so beautiful and disarming." Watch this space, Daniel has just been signed on for two feature films with more to follow…
Tracey Ullman as Jack's Mother
English born comedienne Tracey Ullman, of the multi-award winning The Tracey Ullman Show, was born to play the role of Jack's poor, exasperated Mother who dreams of a life free from poverty. Modern day mum's, there is a lesson in here…
Lilla Crawford as Little Red Riding Hood
Don't be fooled by Lilla's young age… The 12-year-old, who had previously appeared on Broadway in Annie, makes her feature film debut with Johnny Depp (the Wolf) in the role of Little Red Riding Hood for good reason! Lilla was selected after a nationwide search and so impressed Director/Producer Rob Marshall that she scored the top gig. Marshall says, "John DeLuca and I had seen Lilla in James Lapine's production of Annie, and she was fantastic. We couldn't believe that someone that young could carry a show, but she was an extraordinary singer, actress and comedienne and way ahead of her years, which is exactly what Little Red should be."
Christine Baranski as Cinderella's Wicked Stepmother
Christine Baranski is one of the entertainment industry's most honoured actresses, achieving acclaim in every medium in which she has performed. She is an Emmy, two-time Tony, Screen Actors Guild and American Comedy Award winner. After working with Director/Producer Rob Marshall on Chicago, she didn't have to think twice about agreeing to play the wicked Stepmother to Cinderella. "It is tremendously exciting that this is being made into a movie musical because we are dealing with a fairy tale universe which lends itself to fantastic visualization," Christine says. "I can't imagine a better director than
Rob Marshall to visually conceive this, with Sondheim's magnificent music and lyrics, and some great movie actors bringing all this psychological depth to the roles."
Tammy Blanchard as Cinderella's evil stepsister Florinda
Tammy Blanchard's most recently acclaimed performance was in Blue Jasmine, with our very own Cate Blanchet. But she has a string of accolades including nominations for Tony Awards and an Emmy. As Florinda, Tammy's character is both funny and dark, and while she's quick to give it to Cindy, she gets it back too.
Lucy Punch as Cinderella's evil stepsister Lucinda
Lucy Punch's recent silver screen appearances alongside Al Pacino, Christopher Walken and Alan Arkin in Stand Up Guys was uber impressive. And now she's shown a different, more sinister style as the wicked stepsister with evil intentions.
MacKenzie Mauzy as Rapunzel
MacKenzie Mauzy plays Rapunzel, the sheltered young woman who longs to experience the world beyond her ivory tower. And much like today's teenagers, who feel they are mature enough to do adult things, this Rapunzel represents the teenage girl who just wants to sneak out of the house and have a life of her own – sans parent's rules. Sound familiar? Another actress rich in theatre, film and television performances, Mackenzie most recently appeared in the films Brother's Keeper and Construction, but you may recognise her from CSI: NY, Cold Case, Law & Order, Drop Dead Diva, NCIS, Bones, or The Bold and the Beautiful, amongst others.
Billy Magnussen as Rapunzel's Prince
Nominated for a Tony award for his role as Spike in Chris Durang's Broadway hit Vanya and Sonia and Masha and Spike, Billy Magnussen plays Rapunzel's dashing Prince. "My character wants to be gallant and charming, but he's just a little off, which is funny," Billy says. "But his heart is in the right place… all he really wants is to take Rapunzel away from her tower so they can find happiness together."
WIN a Disney Into The Woods prize pack! 
The Carousel, together with Into The Woods, are running a fantastic competition, where you can WIN a Disney Into The Woods prize pack!
Simply upload a photo of yourself on Instagram using the #DisneyIntoTheWoods hashtag, showing an outfit inspired by your favourite Into the Woods fairy tale and tag @carouselworld. You could be wearing your fave red coat, a la Little Red Riding Hood, a fantastic pair of Cinderella-esque shoes, wearing a Rapunzel style 'do, wearing your cool dungarees Jack style, or chillin' with your dashing Prince. Let your imagination go wild!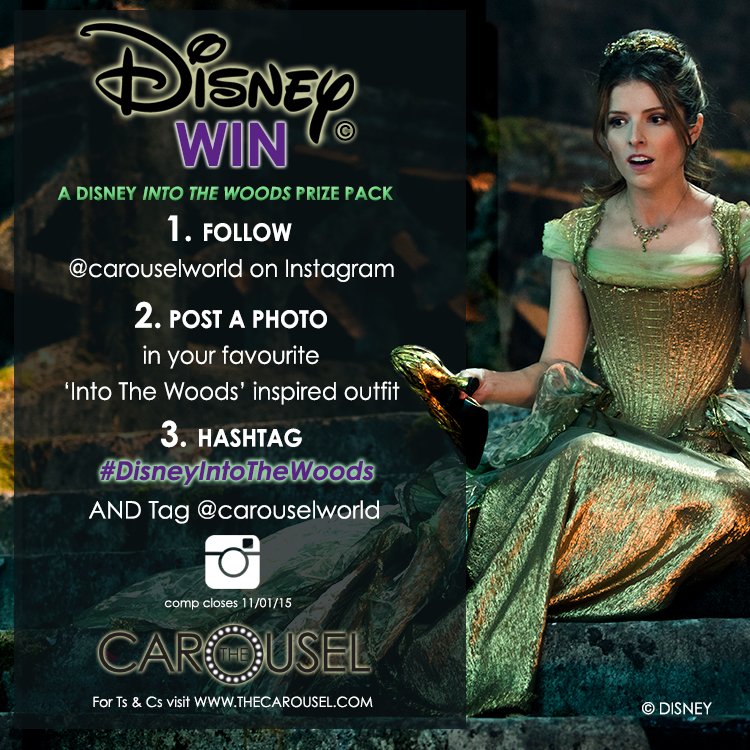 How are you inspired by the magical elements of the film? Tell us below!