Queen of Bridal Vera Wang reveals the inspiration and the creative process behind her collection, and the making of one uber special gown, Nessa. Fall in love… 
Vera Wang is the go-to for newly engaged celebs. The Queen of Bridal, creating some of the most iconic, breathtaking and intricately designed gowns for decades. Collection after collection her designs are awed and envied. Brides dream of wearing a 'Vera' on their wedding day, and invest big in their once upon a time purchase.
In her collection, brides will be pretty in pink. The collection is full or blushing pinks, rose and corals with detailing reminiscent of childhood innocence, featuring roses, ribbons, silks, ballerina influences and ball gowns. Here's a tale of one of the stars from the collection, Ness…
The Inspiration
"For my collection, I wanted to celebrate a youthful, girlish spirit by designing dreamy gowns we grew up imagining for our wedding day," explains Vera. "Nessa is a gown that brings a particularly symbolic connection between those childhood dreams and the passage into womanhood.
When I used one of my most iconic decorations, the grosgrain ribbon, as a one-shouldered, asymmetrical strap, I was thinking about the little girl who used to wear ribbons in her hair, all tied up in a bow—but now she's all grown up, glowing and radiant for her wedding day."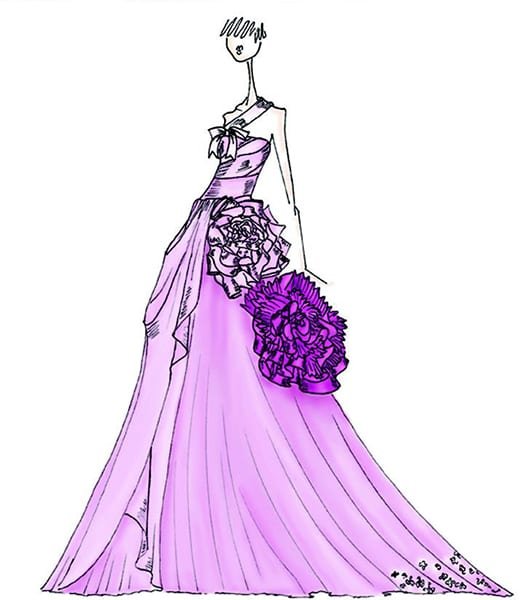 Strapless silk organza ball gown with hand draped bodice accented by organic flower, grosgrain shoulder strap and peony faille blossom.
Nessa: All Style & Grace
"Nessa is a very traditional ball gown with a drop waist and a structured, strapless bodice," explains Vera. "Echoing the grosgrain ribbon at the shoulder, bands of asymmetrically draped organza wrap around the bodice, almost like the ribbons of ballet slippers—it really shapes the waist beautifully. These bands open up into a flowing, ethereal swath of organza that gently drapes around the skirt. But the real star of the skirt are the dense-yet-light layers of tulle that flow out from the waist like a dancer's ball gown."
The Creative Inspiration
"This season I played with one of the most iconic romantic flowers, the rose," Vera explains. "An abstract rose decoration, composed of hand-draped pieces of organza, hits just below the waist. It's really quite a special piece of embellishment—because it's all handmade, no two flowers on any dress are exactly alike."
"Tucked underneath the draped tissue organza layer in the back of the gown is another bold, over-the-top floral decoration, made out of faille," reveals Vera. "I've created it by taking raw edged faille and swirling them together with other pleated pieces. Lightweight, yet very stiff and matte, visually it gives the gown a very elegant, origami-like sculptural dimension—they almost look like peonies. The contrast of the sharp pleats with the soft tulle and tissue organza of the skirt looks really great, because everything else about this dress is so refined. A dusting of embroidery in the train, these very elegant little clusters of flowers, tops off Nessa's sweet bouquet."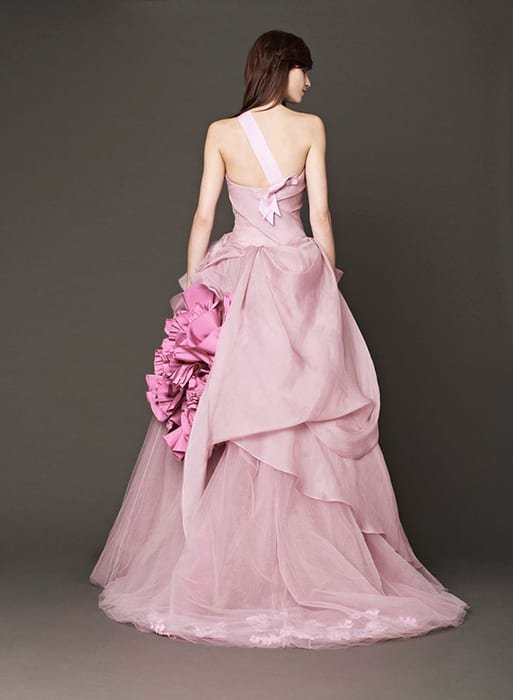 Are you in love with Vera Wang's Nessa collection? Tell us in the comments below!